Meet Stuart, Our New Sr. Project Manager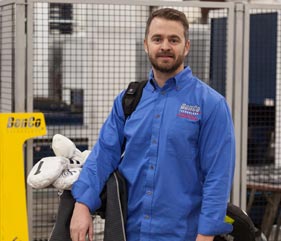 We're excited to share the news that we recently added a Sr. Project Manager to our team! This is a new position that will oversee our designers and help coordinate between our customers, sales reps, designers and shop.
As we continue to grow, it's our goal to make sure that speed, efficiency and customer service get even better—and Stuart Carrihill will be tasked with making sure this happens. Read on for a little Q&A with Stuart, and be sure to say "Hello" the next time you're in the area!
Welcome to the team Stuart! What's your role here at BenCo?
Thanks! I'll be responsible for overseeing our project managers, our quoting process, and making sure projects run smoothly the whole way from the first contact through to the shop and finally out the door to our customers.
How did you end up here?
I've always been in management of manufacturing processes, most recently for a US-based aerospace company with three facilities on the East Coast. I was looking to join a more rapidly-growing company, and knew about BenCo. The team here does great work, and I was excited to join them!
What are you looking forward to most about the position? 
I enjoy being challenged! And I look forward to helping streamline the business, our processes, and making sure our customers stay happy. There's a lot going on both at BenCo and with our customers, and I love the flow of work through our shop!
What you think customers should expect to see over the next six months?
My goal is more efficient customer service, meaning better communication between BenCo and our customers. And of course, getting projects in and out the door as efficiently and precisely as possible.
Where can we find you on the weekends?
I love to play golf. I played in college at Charleston Southern and enjoy the sport immensely. In fact, I moonlight reviewing golf courses for Golf Digest Magazine. This allows me to play some of the best courses in the world on a regular basis.
 What's something interesting we might not guess about you?
 I was born in Zimbabwe, and moved to the US during my senior year of high school. But surprisingly, where I grew up wasn't really that different from a typical American suburb. I guess the biggest difference was that if you drove for about 45 minutes in any direction you'd be literally in the middle of nowhere! So we did a lot of camping and exploring. It was like being on safari right in your own backyard, with hyenas and everything.
If you're already a customer, be sure to help us welcome Stuart to the team! And if you're interested in learning more about our design, cutting and fabrication services, contact us today. Our team is standing by to help bring your next project to life! We look forward to hearing from you.