Two Unique Cutting Projects
We recently completed two interesting projects that weren't for our typical manufacturing-industry clients. Instead, these were fine art projects that are currently on display in two very unique locations.
Laser Cutting Clouds
The first project is a surreal sculpture of clouds and birds that is displayed in a pool house over a swimming pool in southwest Florida. The piece is made from .125" aluminum and was cut on one of our flat sheet lasers.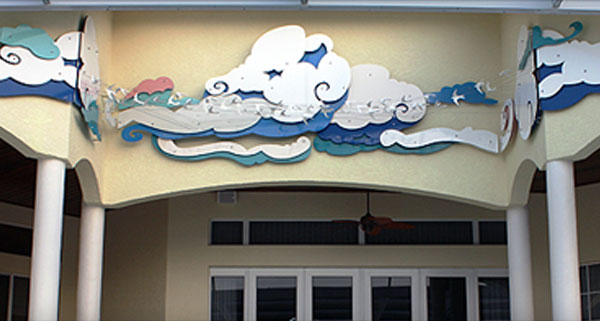 The client supplied the drawings and our team swung into action – importing the design into SolidWorks and getting it into our shop schedule for production. Once the piece was cut, it was powder coated, delivered to the home and installed by our client. The powder coated aluminum will resist moisture and maintain its integrity with even the biggest cannonballs splashing into the pool below.
Water Jet Cutting a "Sunbeam"
The second project is a sculpture called "Sunbeam" by Cathrin Hoskinson of Brooklyn, NY. It is currently on view at Howard Community College in Columbia, MD. This set of abstract, intricately-designed wings stands almost 8 feet tall.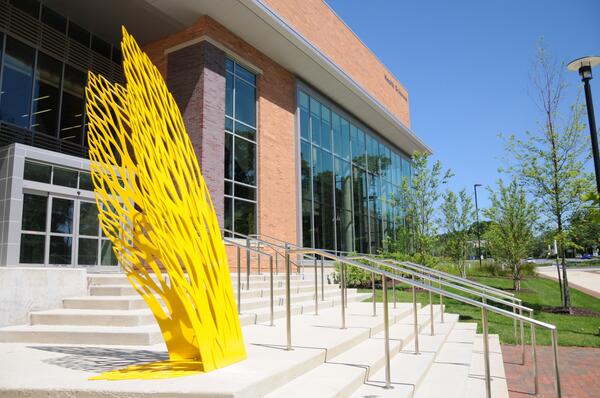 Accoring to the artist:
Sunbeam uses an undulating pattern of lines which can describe waves of light or water, or the fractured growth lines of trees or fingers, and stands like a dancer in the wind.
Click here to download a PDF of information on Cathrin Hoskinson, the artist, and the Sunbeam sculpture.
This project is made from two separate sheets of 3/8" 5052 joined by a heavy base, and it was cut on our water jet. Once the raw parts of the sculpture were cut, the pieces were delivered to the artist's studio in Brooklyn where the piece was finished and subsequently installed in its current home.
If you're interested in learning more about laser cutting or water jet cutting please contact us today. With a wide array of cutting equipment and complete forming, fabrication, welding and finishing services available on our Honey Brook, PA campus, we're ready to help with your next project.
SaveSave