Water Jet Cutting Technology Can Cut (Just About) Anything. What to Know Before Your Next Cutting Project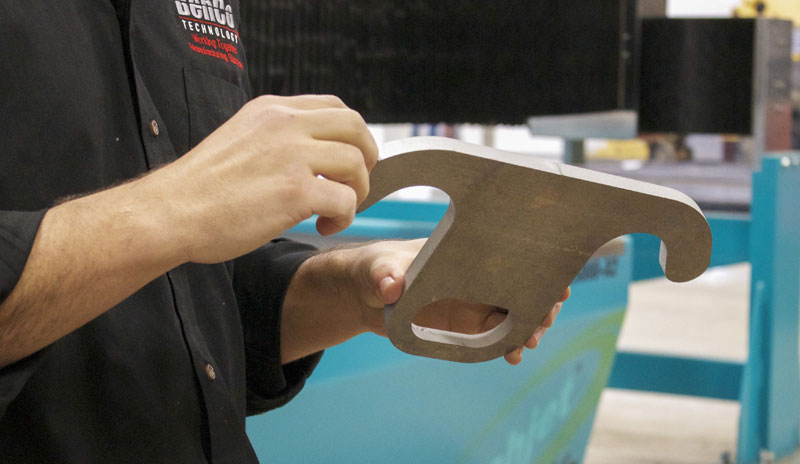 If your manufacturing project requires parts made from thick stock or delicate materials, water jet cutting may be the perfect solution. Other forms of cutting can only handle certain types of metal and limited thicknesses. Water jet cutting can do so much more. And, at BenCo, we're one of the few Mid-Atlantic metal fabrication shops with the water jet capabilities to support your higher-level metal cutting needs.
You Name It, We Can Cut It
With our water jet cutting equipment, we cut materials with a high-pressure, precisely controlled stream of water (and an abrasive substance when cutting hard materials). You get both extraordinary accuracy and speed with water jet cutting. For prototypes and short runs, we can take your project from design to finished parts in a matter of minutes.
Not only can we cut all types of metals with our Techni water jet table, but we also can cut:
Glass
Stone
Rubber
Granite
Brass
Copper
Foam
Plastic
Graphite composites
And more
Unlike other forms of cutting, there are no restrictions on cutting polished or reflective materials. And, our water jet machines can slice through metal and other materials up to 6 inches thick. When stack cutting, we can handle thicknesses of up to 8 inches. Whether you need very fine, fine, medium fine, medium, or coarse edges on your parts, our technicians can accommodate the degree of smoothness your project requires.
Because water jet cutting transfers minimal heat, the material being cut retains its quality. That eliminates the need for using secondary processes after cutting parts to correct heat-induced imperfections. Also, our machine's low-pressure piercing function ensures that even brittle materials can be pierced without having pilot holes.
Ready to Dive in and See if Water Jet Cutting Is Right for Your Next Project?
Let's talk! Contact us to discuss how our water jet cutting services can create superior parts as cost-effectively as possible for your business. We'll also be happy to answer any questions you might have about our full suite of processes to fulfill all of your manufacturing project needs.