BenCo Featured In BLM Tube Laser Cutting Magazine!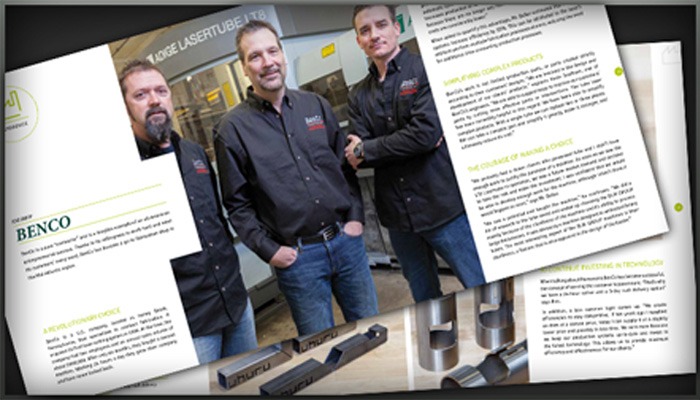 We're really excited to have been featured recently in BLM Group's tube laser cutting magazine Inspired For Tube. Our PA laser cutting shop includes a BLM 3D tube laser, and the folks from BLM were interested in checking it out and seeing some of the work we've been producing lately.
After a long plane ride from their home base in Italy, BLM representatives met with our leadership group to discuss how BenCo got involved in laser cutting and how our business has evolved over the years. They were most interested to hear why we chose to add their LT-8 Lasertube to our shop.
We proudly showed them a number of parts that we've cut recently on the 3D tube laser and shared a few reasons why we feel this machine has really benefited our customers.
Check out the article here by downloading a PDF.
For those of you who have used our tube laser cutting services, you know that this machine does a great job creating all types of parts from tube, square, channel and other open profile stock. And thanks to its ability to cut, countersink, bevel and champfer all in the same step it can help save time and money.
If you're interested in learning more, please contact us today. We'd be happy to discuss your needs and help determine if our BLM 3D tube laser can help!