Design
Helping You Create Better Parts & Products
At BenCo, we're a complete design and engineering resource that can help you create better products for your customers. Our highly-trained team of designers collaborates closely with our clients to help concept, design and produce the parts and components that they need to keep their businesses running smoothly.
Thanks to years of metal fabrication experience, our designers can help make your parts better, faster, stronger, more usable and above all, more cost effective. Using the latest software, including AutoCAD and SolidWorks, we can create accurate models of formed parts and assemblies in order to visualize and communicate design ideas before cutting parts. This is extremely helpful when working on prototypes or making design changes and saves our clients time and money.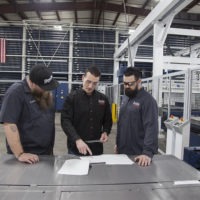 If you're looking for a manufacturing partner that can deliver what you need on time and on budget, please contact us today. We're looking forward to working together with you to help you design and engineer better products.