When Do You Need a Water Jet Cutting Service?
If you have an upcoming manufacturing project and you're considering the various metal cutting technologies available that will best meet your needs, a water jet cutting service offers several unique advantages above the rest. Offering versatility and speed, water jet cutting can handle a diverse range of materials without sacrificing speed or precision. 
While other forms of metal cutting can only handle certain types of metals and limited thicknesses, water jet cutting can do so much more. For example, because it transfers minimal heat during the cutting process, water jet cutting opens the door to working with a broader range of materials ranging from thin glass to 8-inch-thick stainless steel.
At BenCo, our water jet cutting service involves the use of a high-pressure jet of water to cut materials. Our PA manufacturing campus is home to the latest in water jet cutting equipment, which allows us to deliver precise, high-quality parts every time. Keep reading to learn when you might need a water jet cutting service, and contact us today for more information!
When You're Cutting Thick Metal
Not only can our water jet cutting equipment cut faster and deliver optimal results, but we can also accommodate jobs that call for cutting thick materials. Whether you need to cut the thinnest glass or a single slab of 6-inch-thick steel or stone, our water jet cutting equipment can tackle metal thicknesses of up to 8 inches. If you're looking to produce a significant number of parts efficiently and quickly, this is a significant advantage of working with a water jet cutting service.
When Heat From Cutting is a Concern
In other cutting processes, metal expands and contracts under heat. However, with a water jet cutting service, the metal is protected from the expanding and contracting that would otherwise affect the state of the metal. In other words, by minimizing heat transfer, we can effectively preserve the structure, integrity and appearance of materials and eliminate the need for secondary processes or further refinement after cutting that would correct heat-induced imperfections – meaning less work, time and money spent overall!
When You Need High Precision
Thanks to the thin stream size as well as specialized planning and control software, our water jet cutting equipment allows us to cut intricate patterns and detailing in materials. From steel, stone, foam and metal to copper, graphite, plastic, brass, granite and more, we can achieve various levels of coarse, medium and smooth edges to suit your project's requirements. What's more, thanks to our equipment's low-pressure piercing functions, we can pierce even the most delicate materials without the need for pilot holes and without sacrificing precision. No matter what level of smoothness you need, we can deliver it.
Ready to Learn More?
For prototypes and short runs, our water jet cutting equipment can take your project from design to completion in a matter of minutes. And it can handle full production runs again and again quickly and accurately.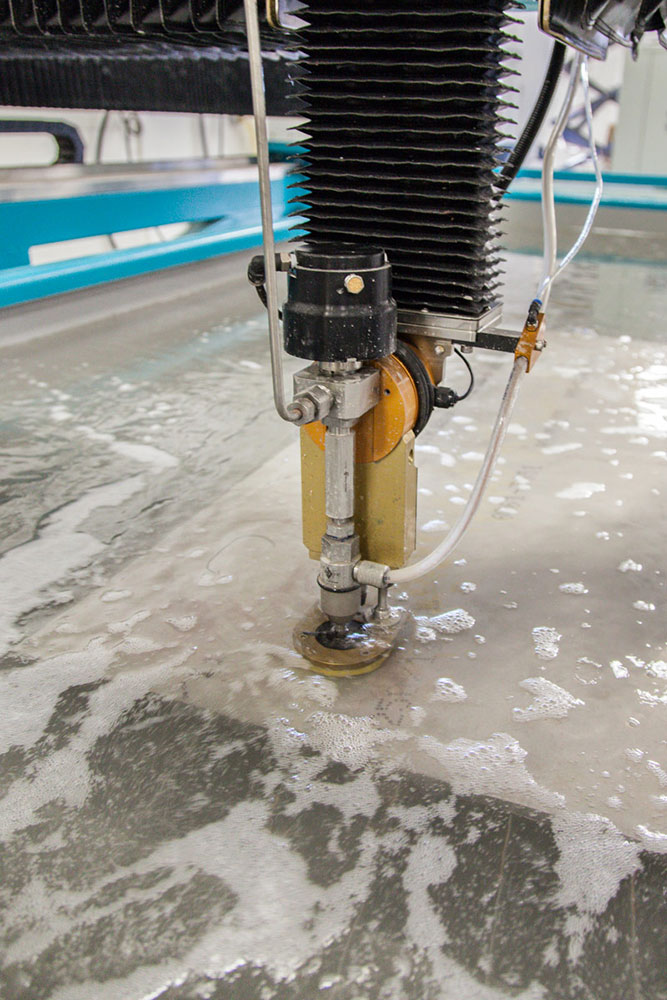 If you think our water jet cutting service might be a good fit for your next project, contact us today. Our team is standing by to show the features and advantages of this technology, and we're happy to discuss your unique needs. We're also able to help determine whether a laser cutting or plasma cutting service will serve you more effectively. We look forward to hearing from you!