Laser Engraving
For Creating Subtle Details & Permanent Markings
At BenCo, our full suite of metal cutting and fabrication equipment includes the latest in laser engraving technology. Thanks to experienced designers and highly trained equipment operators we can create precise, permanent markings on metal, glass, ceramics, leather and other materials. Our shop includes the following laser etching equipment.
TRUMPF TRUMARK LASER ENGRAVER
Max work piece dimensions of 39″ w x 19″d x 16″h
Max load of 55 lbs.
Single prototypes to complete production runs
Our laser engraving equipment can be programmed to interact with the material being engraved in various ways in order to mark, color or etch. This means that the material remains unstressed while we perform the etching of intricate, artistic designs, serial numbers that enhance traceability of component parts, and many other applications.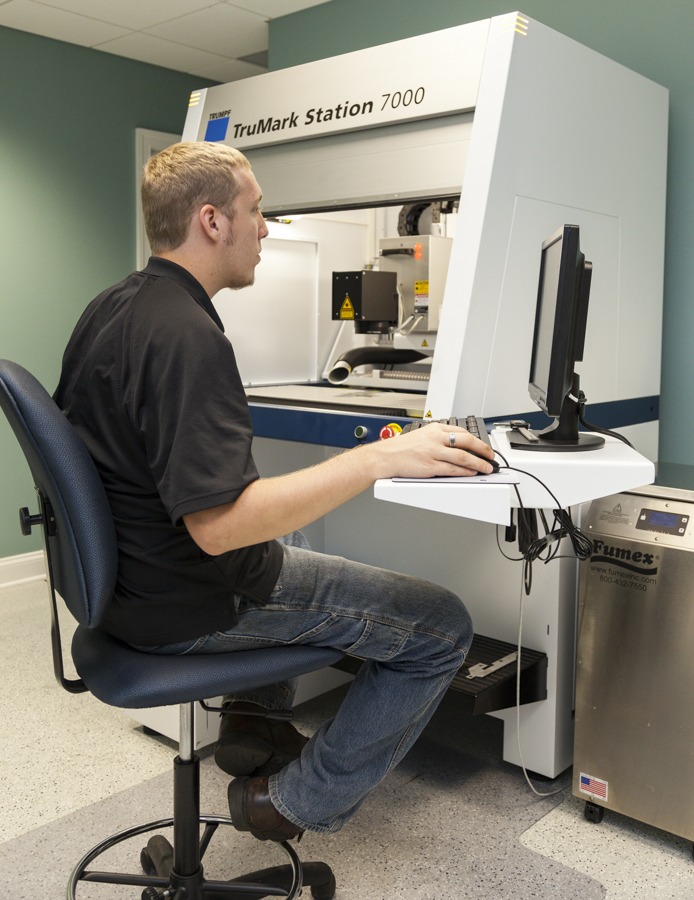 The following are just a few of the ways our laser engraving equipment can help you create better parts for your products. Please contact one of our designers to learn more about these engraving processes and their applications.
Annealing: When a work piece is heated up using this process, its surface changes color but is not damaged. Also, dirt and germs become unable to accumulate.
Ablation: Coated or painted metals, such as anodized aluminum, can be marked by ablating the top layer. This process achieves a particularly high contrast.
Engraving: To produce a deep engraving, the laser beam removes part of the material, creating a depression which can even be conical in shape.
Surface Treatment: Surfaces are structured or cleaned for a specific purpose using lasers. For example, laser processing can be used to remove layers of rust or oil in preparation for subsequent processes.
Coloring: When material and laser wavelength are perfectly matched, it is possible to color or bleach pigment molecules in specific ways, while leaving the material surface smooth.
Ablating: Multi-layer plastics can be marked by removing a thin top layer. This technique could be used to create, for example, day and night designs.
Foaming: Following a brief melting operation, small gas bubbles become trapped in the material as it cools. These bubbles diffuse and reflect any light that strikes them, producing a raised marking.
If you're interested in learning more about our laser engraving services, please contact us today. We look forward to discussing how this flexible, precise technology can benefit your business.