A Manufacturing Partner That You Can Count On
At BenCo, "we can't do it" is not in our vocabulary. That's why we offer unique solutions that help our clients become more successful. From rush services, to delivery, to assembly and shipping we can provide a one-stop solution for all of your manufacturing and supply chain needs.
PROTOTYPING SERVICES
If you're concepting a new part for one of your products, we can help. Thanks to smart scheduling and our dedicated team, we can quickly and cost-effectively create prototypes of any metal part prior to production. Our engineers work closely with our laser cutting and fabrication teams to ensure the best design, lowest cost and smoothest process.
RUSH LASER CUTTING & MANUFACTURING SERVICES
If you need parts fast, our rush service is available upon request. For an additional 15% ($30.00 minimum) charge, we can have your order ready within three business days. For an additional 30% ($75.00 minimum) charge, we can guarantee your order will be ready within 24 hours.
ASSEMBLY & SUPPLY CHAIN MANAGEMENT
We have a complete fabrication department that can assemble your products from the parts that we have created along with any additional parts that you might provide, right down to the last washer. After assembling your completed products, our fleet of trucks can ship them directly to you or your customers anywhere in the United States and Canada. We can manufacture the entire end product for you or just a portion of the final product. The choice is yours.
DELIVERY SERVICES
We have trucks waiting to deliver, or we can ship with UPS or common carrier throughout the United States and Canada. Please call for a shipping quote, our shipping costs are highly competitive and often less than commercial shipping rates. Best of all, we offer free shipping to our local area.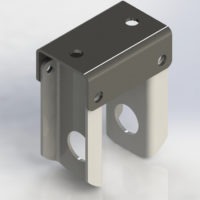 If you're looking for a manufacturing partner that can deliver custom solutions that will help your business become more successful, contact us today.