Forming & Fabrication
A Complete Metal Fabrication Partner
At BenCo, we are a complete metal fabrication service that includes a full prototype shop as well as manufacturing and engineering divisions that are supported by an experienced and skilled staff. We offer complete fabrication of carbon steel, aluminum and stainless steel, and can provide forming, welding, machining, fabricating and assembly services in addition to cutting.
Thanks to our efficient, high-tech shop and our efficient team approach, we service a variety of customer needs from simple welding, forming or other individual services, to complex manufacturing, PEMing and powder coating.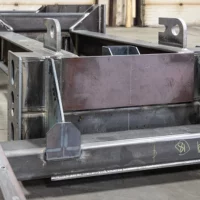 The current suite of fabrication equipment available at our PA manufacturing campus includes the following.
Machining
Laser Cutting
Water Jet Cutting
Plasma Cutting
Forming
Panel Bending
Shearing
Punching
Welding
Cutting
Tube Bending
Swaging
Parts Finishing
Assembly
Powder Coating
Galvanizing
In addition to delivering finished products that are powder-coated, crated and ready for shipment to your end customer, we have engineers on staff that can assist with your design, drafting and product development needs. And we offer complete validation of weld fixtures for releasing prototype parts into production.
If you're looking for a one-stop fabrication partner that can deliver the parts you need quickly, accurately and cost-effectively, contact BenCo today. We're looking forward to helping with your next fabrication project.