A Creative Tube Laser Cutting Trick
One of the benefits of working with a PA laser cutting shop like BenCo is our ability to think through manufacturing processes and come up with creative ways to deliver high-quality parts. These metal sample parts were created for Uhuru to help them showcase their picture frame abilities. And the parts also ended up being a great example of one of our "tricks of the trade."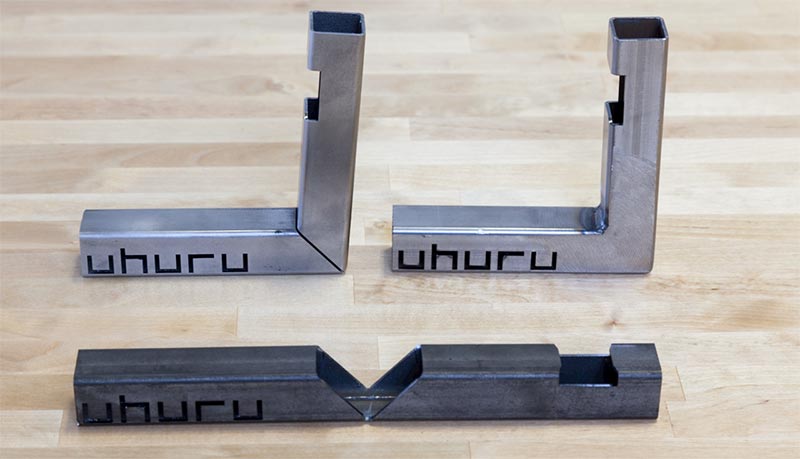 To fabricate these parts, we began by using our 3D tube laser to cut the Uhuru logo into the side of a piece of 1" mild steel square stock. With the help of 3D modeling software, we imported a graphics file into our system and reproduced it exactly with our laser. Laser cutting technology is precise, so we can be sure the logo will look perfect every single time.
Next, our 3D tube laser notched, scored and cut the tube in order to get it ready for finishing. Thanks to precise scoring, the piece can be bent by hand into position and welded to complete the joint. That's right, the part can be bent by hand into position for welding.
This eliminates time-consuming fixturing and the hassle of working with unwieldy jigs. Even better, a corner made from notched and bent metal is inherently stronger than a corner made from two separate pieces of metal welded together.
Thanks to the time gained and dollars saved from a more efficient process, you can see why all sorts of manufacturers rely on tube laser cutting and this type of creative fabrication technique to create all kinds of parts.
We can use this "trick of the trade" to help make your metal parts stronger, easier to finish and quicker to produce. Contact us today if you'd like to learn more and discuss your next project!