Does Your 3D Tube Laser Cutting Shop Have Cutting-Edge Capabilities?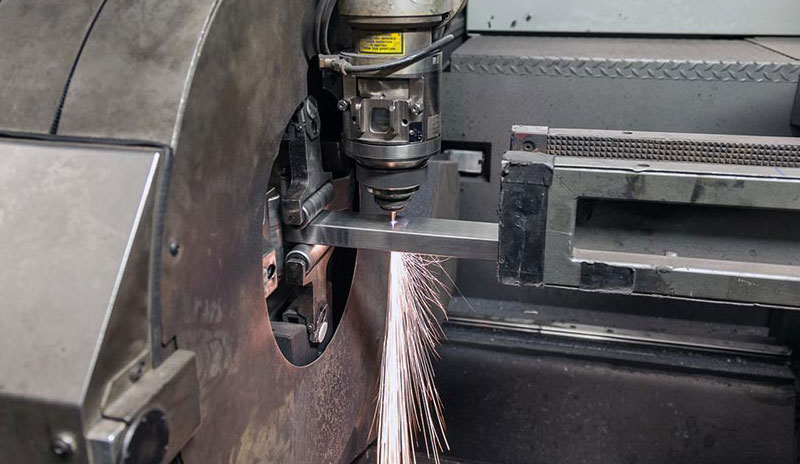 At BenCo, our 3D tube laser cutting service allows for parts with complex geometries to be cut from tube, channel, angle, square, and open profile stock.
A successful manufacturing project, however, depends on more than just exceptional cutting. When you choose a 3D tube laser cutting service, consider what other value a cutting shop can provide. Does it have top-of-line cutting capabilities and also the expertise and equipment to handle other essential processes?
That can make a difference in how accurately, on-time, and cost-efficiently your jobs will be completed.
Our 3D Tube Laser Cutting Service
We have state-of-the-art BLM tube lasers onsite. With their 3D rotating laser heads, they can cut, bevel, countersink and chamfer all in a single step. They are accurate, fast, and produce excellent results when making single prototypes to full production runs. We can cut complex parts from steel, stainless steel, and aluminum (up to maximum O.D. of 8.66141″) with our 3D tube laser cutting equipment.
Our Other Services
In addition to 3D tube laser cutting, you can count on us for:
Design – Our skilled team of designers can assist with developing a rough concept or fine-tuning an existing design for optimal performance.
Other cutting methods – We also do flat sheet laser cutting, plasma cutting, saw cutting, and water jet cutting.
Fabrication – Our complete list of fabrication services includes machining, forming, welding, shearing, swaging, and more.
Prototyping – You'll love the efficiency and economy of having us create your prototype.
Rush services – Need a quick-turnaround? No problem! Request our rush services to get your order within a 24-hour timeframe.
Assembly – When you need a finished product (or sub-assembly), our assembly services will save you time and money.
Delivery – Whether using our own trucks or arranging delivery through UPS or common carrier, you can leave the shipping logistics to us.
Your Success Is Our Goal
At BenCo Technology, we believe you deserve a partner dedicated to helping you succeed. That's why, in addition to best-in-class 3D tube laser cutting services, we also offer many other critical services. We're here to help you with your project from start to finish and to make sure the process is headache-free and cost-efficient every step of the way. Contact us today!