One-Stop Supply Chain Management For Your Repeat, High-Volume Manufacturing Projects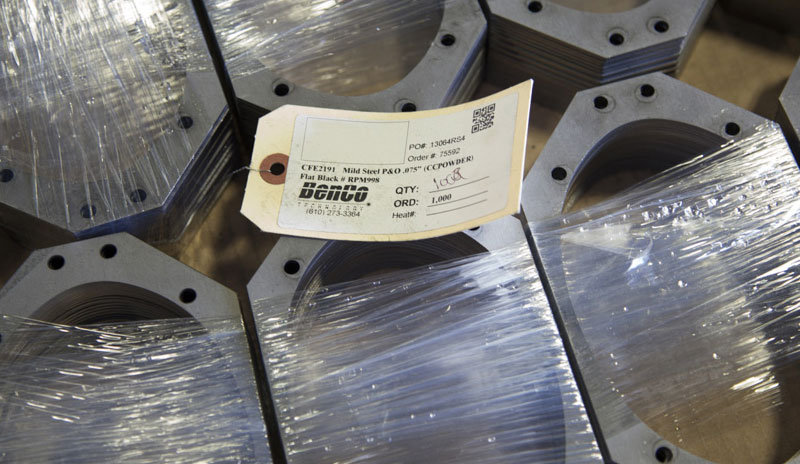 When you need a large volume of parts on an ongoing basis, you shouldn't have to jump through hoops to get the job done every time. That's why we offer a supply chain management service in addition to design, cutting and fabrication.
We take care of all the logistics, so you don't have to worry about any of the details.  We can manage the entire process when manufacturing parts, assemblies, or even complete products every time you need them—consistently. From start to finish, you can rest assured nothing will slip through the cracks.
How Our Supply Chain Management Solution Works
After we have an annual purchase order from you, we…
Purchase the raw materials for your parts.
Store your raw materials until they're needed.
Cut, fabricate, form, weld, PEM, powder coat, and perform any other processes needed to create your parts.
If required, assemble your parts and components.
Store your parts, assemblies, and products for you at our location.
Deliver your products according to your requested fulfillment schedule.
Our goal is to make it seamless for you from beginning to end so that you never have to worry about ordering materials, monitoring production, or tracking delivery. We'll even box your parts with your labels, and drop ship them directly to your customers as if they're coming from you.
Ready To Put Your Repeat Orders On The Right Path?
Although it may seem too good to be true, rest assured it's for real! Our PA laser cutting shop is known for our exceptional service, and this is just one of the ways we save our customers time, money, and headaches.
Contact us to find out how we can simplify the manufacturing process for your company. With a full range of cutting and fabricating services and expertise in supply chain management, we're here to make your life easier and your business successful.