Meet Mike, Shipping Manager at BenCo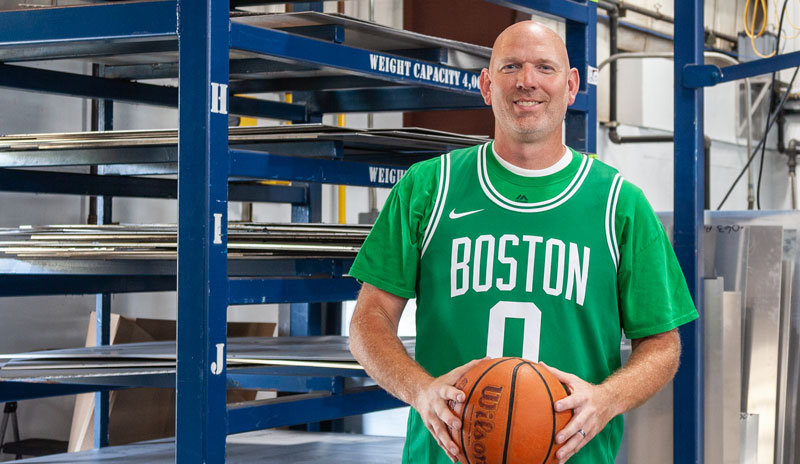 BenCo's continued growth over the past several years means we've invested in more than engineering muscle, larger equipment and additional metal fabrication capabilities. We've also brought on our full-time shipping manager, Mike Robbins, to make sure each part we fabricate gets out the door and to our customers on time.
Read on to hear how Mike has brought his more than 20 years of shipping and warehouse expertise to our team and is adding efficiencies and capabilities to our business. And, contact us to learn more about our full metal fabrication process from design to delivery and how we can support you on your next project.
What is your responsibility in your role as Shipping Manager?
My job comes down to getting parts out to the door and to the customer on time. I manage a team of drivers and coordinate their runs to customers and also between our facilities in Honey Brook and Reading.
What's your process for getting parts out the door to customers?
I've been with BenCo for about a year and I've fine-tuned the process since coming on board. I've added steps to create efficiencies and also ensure that the quality of our parts are maintained after they pass QC.
With my team of drivers, I've created a safety checklist and implemented it for both pre- and post-trip inspections. Drivers walk around the truck and physically inspect the vehicle to confirm it's ready to go. This added layer in the process is a quick way to help make sure our drivers are safe. It also a form of preventive maintenance, catching potential issues we may otherwise miss, so we can keep trucks on the road and deliveries on time.
BenCo has grown a lot in the last year since you've joined the company. Has this caused your role to evolve at all?
Absolutely. I've seen our shipments increase and the number of vendors and customers we're supporting has also grown. The tightened processes I've put in place has allowed the shipping team to keep pace and make sure deliveries stay on schedule.
A big part of our new process is a Shipping Tracker system we implemented. I'm able to track a part from the time it leaves BenCo to the time it arrives to the customer. This includes any stops along the way to other suppliers who are a part of the job. We're giving customers added piece of mind that their parts are on schedule and it's allowed us to hold our vendors and partners accountable.
In this last year, we've gotten even more shipments out the door on time.
In what way are you a part of the QC process?
I'm the final person at BenCo who touches a part before it leaves our shop and arrives to the customer. I always double check quality and the appearance of packaging as parts go out the door.
What led you to get involved in manufacturing and shipping?
I began my career in shipping in the warehouse of a school supplies company part time. I've worked at various levels in shipping for a number of companies, including as a warehouse lead at a pharmaceutical corporation. I've always been good at configuring shipment orders and love the work.
How do you spend time when you're not at BenCo?
When I'm not at BenCo, I'm with my wife and two sons. We're big basketball fans so we're usually out playing. I just retired from coaching high school basketball and was lucky enough to be able to coach both of my sons.