Metal Cutting Technologies That Give Manufacturers an Edge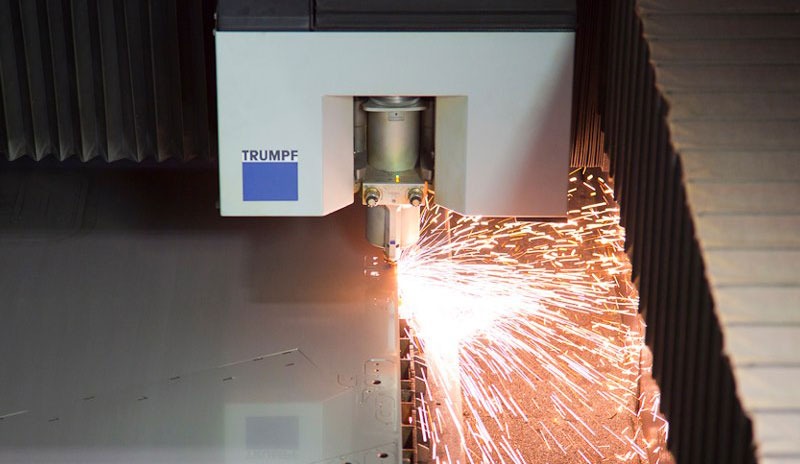 Working with a full-service cutting & manufacturing partner that has the expertise and technology to cut parts and products flawlessly can have a tremendous impact on your business's ability to stand out from the competition.
One of the most crucial aspects of successful product manufacturing is making sure parts are cut using the most efficient cutting processes.
At BenCo Technology, our metal cutting service has the equipment and experience in-house to accommodate the requirements of the most demanding manufacturing projects. Below is an overview of the different cutting capabilities we have to handle jobs that involve diverse materials and levels of complexity.
Four Cutting Edge Cutting Capabilities at BenCo Technology
Flat Sheet Laser Cutting
Flat sheet laser cutting offers speed and accuracy when producing flat parts. Our TRUMPF flat sheet lasers cut with exceptional precision—even when cutting a large number of parts. They not only cut, but they also can add holes, etch, add markings, and complete other tasks all at once to save production time and costs.
Their advanced computer-controlled operation delivers consistency and clean edges whether you're cutting a prototype or doing a full run of thousands of parts. With our fiber laser cutting technology, we can even cut reflective metals like copper and brass, and we can create parts from sheets of hot-rolled steel up to 1″ thick, stainless steel up to .75″ thick, and aluminum up to .5″ thick.
Tube Laser Cutting
Of course, not all parts can be made from flat sheets of metal! For those that have multi-dimensional characteristics, we offer 3D tube laser cutting. Our BLM tube lasers enable us to cut parts from tube, channel, and other open profile stock efficiently. Their rotating head can perform multiple processes at once, including scoring, beveling, chamfering, countersinking, adding holes, and more.
Using our tube lasers also provides a way to bypass the time and effort required to build a complicated jig for joining pieces into a single part. With our tube laser, we can make tabs and grooves while cutting so that final assembly only requires fitting the piece of stock into shape.
Water Jet Cutting
Water jet cutting broadens our manufacturing services capabilities even more! Because water jet cutting generates minimal heat, it can cut even delicate materials. From steel to glass to copper to graphite composites to brass to rubber to granite to plastic to paper—water jet cutting can be used to cut parts for an endless list of project possibilities.
One standout feature of our Techni water jet is its low-pressure piercing function, which allows us to pierce through sensitive materials without making pilot holes. It also has a low-profile stream that we control with advanced SofTec software to create detailed patterns on parts that require intricate designs. And our water jet equipment can cut materials that are very thick—up to 6" thick steel and stack cutting up to 8".
Plasma Cutting
Plasma cutting, with the option of high-definition plasma or oxy fuel cutting, rounds out BenCo Technology's list of featured cutting services for metals like stainless steel, aluminum, and mild steel.
With the oxy fuel cutting head, we can cut up to 7" inch thick steel and our 5-axis high-definition plasma cutting head is ideal for making cuts on tough angles and curves. And with a CNC drilling station, we can cut, drill, tap, countersink in a single step.
Cutting and More To Meet Your Manufacturing Needs
Besides our cutting services, BenCo Technology also has expert design, fabrication, assembly, and other solutions to meet your full range of manufacturing needs. Contact us today to talk about your next project and how we can help you save time and money through every phase of your projects.