Plasma Cutting Services That Are On Point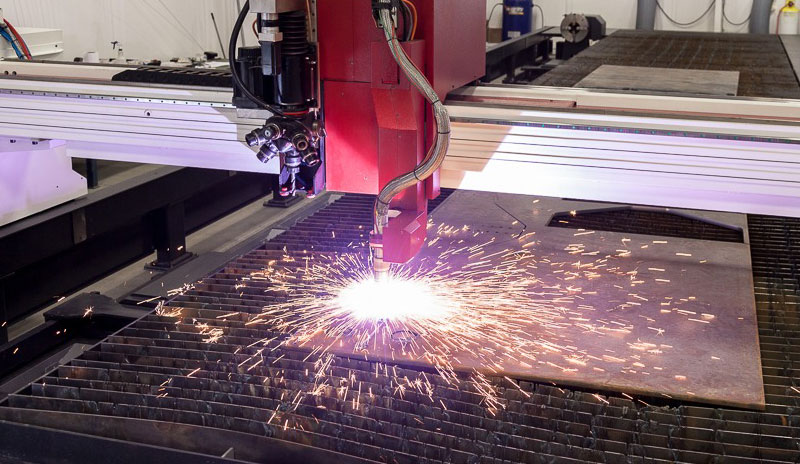 Among BenCo Technology's cutting capabilities, plasma cutting is one of the most versatile solutions to meet manufacturers' needs. Our Baykal plasma cutting machine enables us to cut a broad variety of materials. And, because of an integrated CNC drilling station, we can produce finished or near-finished parts in a single step. With both high-definition plasma and oxy fuel cutting heads, our shop's technicians can select the ideal cutting technology for your project.
Key Points to Know About BenCo Technology's On-Point Plasma Cutting Capabilities
True 5-axis cutting allows us to bevel, notch, and cut complex geometries and angles that cannot be achieved with traditional plasma cutting machines
Our plasma cutting machine can cut round, square tubing
Materials that we can cut with our plasma cutting machine include mild steel, stainless steel, aluminum, brass, copper, and more
A built-in six-head CNC multi-tool station allows us to drill, tap, countersink, bevel, and more in the same process. This saves time and ensures accuracy
Flat sheet plasma cutting specs: Sheet size up to 98" x 312"; maximum thickness of 2"
Tube plasma cutting specs: Pipe diameter of 2" to 23.6"; square tube diameter of 2" x 2" to 11" x 11"
Oxy fuel cutting specs: Flat sheet cutting only (maximum sheet size 98" x 312"); maximum piercing thickness up to 5"; maximum edge cut thickness of 7.87"
Multi-tool drilling station specs: Works with flat sheet and tube material; tapping up to M16; drilling up to .75"
When you entrust BenCo and our experienced team of technicians with your projects, you get top-quality expertise and the best results technologically possible.
Precise
Efficient
Cost-effective
We are vested in making sure your parts are made flawlessly to your specifications whether you need a single prototype or a full production run of thousands of components. In addition to our cutting services, we also offer design, forming, fabrication, and more. No matter what services we're completing for you, our project managers will keep you informed of your job's status every step of the way. Contact us today to discuss how we can save you money, time, and headaches by serving as your manufacturing partner!