Stainless Steel Meets Flowers, Fondant & Buttercream Icing
At BenCo, we spend a great deal of time working on design and laser cutting projects for all types of manufacturers. This means that we dig deep into really specific niche products in order to deliver precision industrial and commercial parts.
However, we love putting our design and laser cutting experience to work on creative projects too. And in our experience, nothing is more creative than designing a custom cake-topper for a stylish (and delicious!) wedding cake. Over the past few months, we're honored to have been asked to provide cake toppers for the recent weddings for four of our friends. And since at BenCo we're all softies at heart, how could we say no?
In the following example, we used 18 gauge stainless steel to create a romantic cake topper in the shape of a happy bride and groom. Using the SolidWorks design software, we were able to show various ideas to the couple and incorporate their feedback. Once the design was complete, we used precision laser cutting technology to bring the design to life. We then TIG welded rods onto the back of the cake topper so that it would properly stick into the cake. Finally, it was powder coated to a glossy black shine.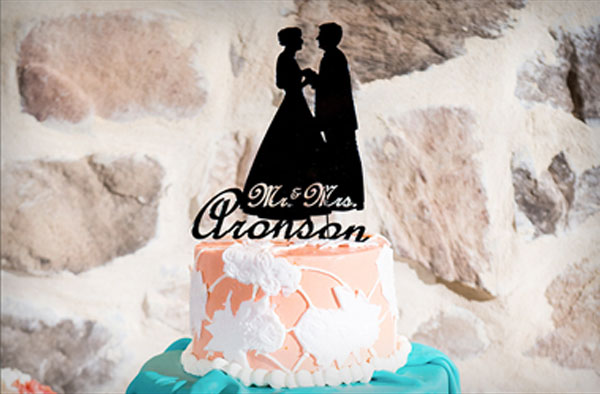 Photo by Tessa at Tessa Marie Photography / TessaMarieImages.com
Below is a scripty and flowing cake topper made out of 18 gauge stainless steel. Again, we used the SolidWorks design tool to show ideas to the couple based on an initial hand-drawn sketch that they supplied. The precision offered by our laser cutting process allowed us to cut their detailed and intricate design while precisely maintaining its unique proportions. If you look closely, you'll see holes on the left and right edges of the design that allow the couple to hang their cake topper in their home as a reminder of their happy day.
Photo by Shane at Moments Captured Photography / MomentsCapturedProPhoto.com
Below is a unique banner-style cake topper that we created for a more traditional look. The banner was laser cut out of 18 gauge stainless steel as usual. We like to use 18 gauge stainless for cake toppers because it is strong enough to hold its shape and feel substantial, yet lightweight enough to perch atop a delicate wedding cake. In addition to cutting the banner, we carefully TIG welded rods to this design so that the cake topper could sit above the hand-crafted bride and groom figurines. We wouldn't want this particular cake topper (or any of them for that matter!) to tip over during the reception.
Photo by Kathleen at Essence Photography / EssenceLifePhotography.com
Last, we laser cut the heart-shaped cake topper below for a couple who enjoy hiking and backpacking together. This is a fun, modern design for a cake topper that really reflects the couple's interests. As always, we used 18 gauge stainless steel and in this case added a shiny black powder coating to finish it off.
Photo by Adam Myers Photography / AdamMyersPhotography.com
As you can see, our PA laser cutting shop can get creative sometimes! We love to use our imagination and stretch our skills to the limit when working on this type of unique project. So whether you need a cake topper for your next wedding or any other type of custom-designed metal part, we'd love to help. Contact BenCo today to learn more about our design, laser cutting and fabrication services. We look forward to hearing from you!
SaveSave