Then & Now: Ben Beiler and BenCo's First 20 Years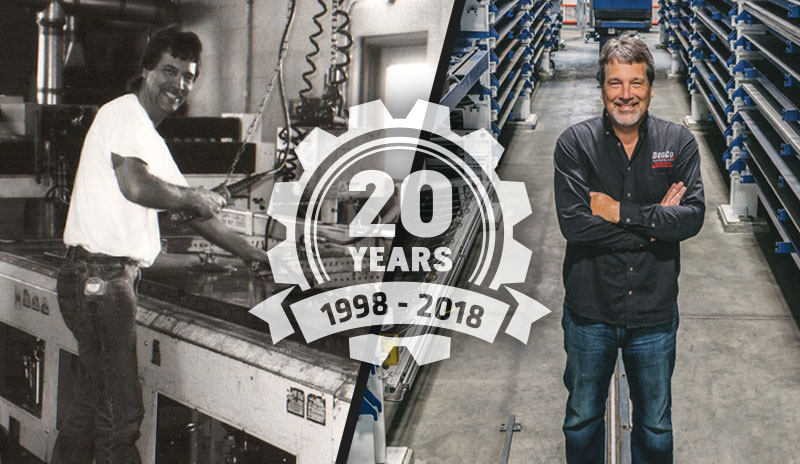 As our 20th year comes to an end, we spoke with our founder, Ben Beiler, to learn more and reminisce about the early days of the company. Below, Ben shares how BenCo went from a garage business to a leading Mid-Atlantic fabrication shop, what's next for the business and the industry over the next 20 years, and why he believes BenCo has had the success and longevity it's experienced.
How did you get your start in metal fabrication and what inspired you to dedicate your professional life to this type of work?
I learned metal fabrication while working at Clean Burn for 11 years. When I started, I ran machines. I later worked my way up to become the shop floor manager. Clean Burn's business was always at capacity during the winter months. But, in the summer they would take on outside work to keep the machines running.
During those months, I decided to take on side work on my own. I rented a machine from Clean Burn and would run it at night when it was otherwise off. It went so well that I was able to begin what today is BenCo. The company began with just me and my childhood friend, Benji. Two Bens – so, we had to name the company BenCo.
In 1998, the year you founded BenCo, Google was founded in the US, web blogs first appeared, cell phones were just becoming mainstream, and the Walkman was the most popular way to listen to music on the go. How was machine and business technology different for BenCo in the early days compared to today, 20 years later?
Back then lasers were new to the industry and they had extremely low wattages. Our first machine was only 2,000 watts. Today, our machines generate over 12,000 watts. The increase in speed and ability to cut significantly more units per minute over the years has changed everything.
In just the last five years, we've gone from CO2 to fiber optic cutting. This evolution eliminated a lot of maintenance costs and the machines are faster and easier to operate.
To what do you attribute BenCo's 20 years of success? What's kept the business strong over the years as other fabrication shops in the Mid-Atlantic were closing their doors?
We've always been fortunate to have good people working with us. Much of our success comes from having the right people in the right roles. Especially when it comes to customer service and our shop employees responsible for making good quality parts.
What is it about BenCo that keeps your customers coming back year-after-year?
We've always put emphasis on providing good service at a reasonable cost. Our project managers are proactive, trying to help our customers fine tune a product or design, or just guide them through the fabrication process so jobs run smoothly. Customers know what to expect when they work with us and we work hard to under promise and over deliver.
What do you see as the future of the metal fabrication business and how do you think the industry will evolve over the next 20 years?
The biggest thing that we know is coming is automation and robotic capabilities. We welcome this evolution of our industry because it's going to make our employees more scalable. And, with the available workforce shrinking, the ability to look ahead and use technology alongside our fabricators is a welcome shift that will benefit our business, our employees and our customers.
More generally, our access to marketing capabilities with blogs and emails has helped us gain exposure in a way that didn't exist when we first began the business. Our ability to produce quality parts and share information with our customers along the way will continue to be a value we provide.
Aside from BenCo and metal fabrication, what's another passion, hobby or interest of yours?
Before working with metal, I worked with wood. Restorations of homes and buildings is a hobby I'm passionate about. Years ago, I bought a farmette built in 1749 that General Morgan, one of George Washington's generals, supposedly walked through before the war.
What advice would you give yourself if you could go back in time to the beginning days of BenCo while building the business in your garage?
I'd tell myself that the most important thing you can do as a new business owner is surround yourself with good people. If you don't have the right people doing the right work it'll take 2-3X longer to turn a profit. Invest in people and success will follow.
We're proud of our history and success as a leading fabrication shop in the Mid-Atlantic region. For more information about BenCo, contact us today. We look forward to working with you and making you a part of our company's history over our next 20 years.