What is Oxy Fuel Cutting?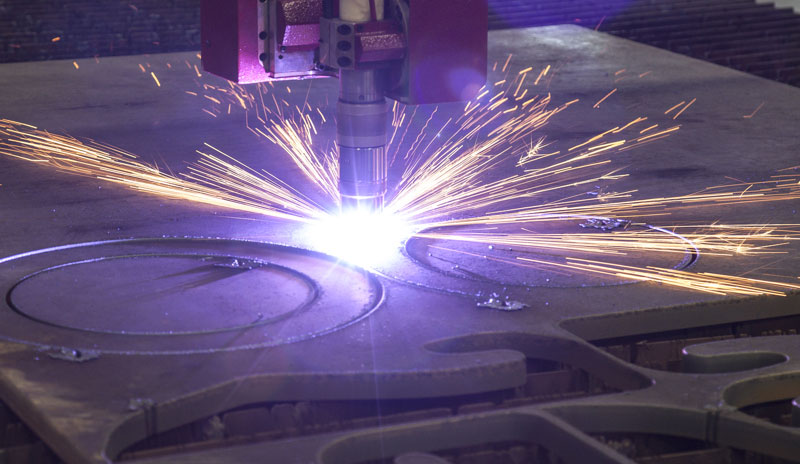 Different manufacturing jobs have different requirements, and not all types of cutting can effectively serve every project. That's why BenCo has a variety of technologies in-house at our Mid Atlantic metal cutting service. Besides laser cutting, water jet cutting, and plasma cutting, we also do oxy fuel cutting. Read on to learn a little bit more about our Mid Atlantic oxy fuel cutting service and how it might benefit your next project.
Oxy Fuel Cutting Definition
Oxy fuel cutting entails creating a chemical reaction between pure oxygen and steel to form iron oxide. Flames via an oxy fuel torch are used to increase the temperature of the metal and then pure oxygen, in a precise, high-pressure stream, is directed at the heated surface at a constant speed. A cut is formed as the affected metal becomes rapidly oxidized and is blown away.
You might also hear oxy fuel cutting referred to as "oxy acetylene cutting," "flame cutting," "oxygen burning," or "steel burning."
The process has been around for approximately 120 years. You might find it interesting to know that one of its first applications was for breaking into banks' safes. Fortunately, it has evolved to serve more noble purposes!
Types of Metal That Oxy Fuel Cutting Works On
Oxy fuel cutting can be used for cutting parts of all shapes and sizes, but it isn't right for all types of metal. It's only effective for metals (like mild steel) that use carbon as their alloy. This is because their oxides have a lower melting point than the base metal and won't form a crust during the process.
Oxy Fuel Cutting at BenCo Technology
At BenCo, we have a high-definition oxy fuel cutting head integrated with our large plasma cutting table to give us a lot of flexibility and versatility when working on our customers' jobs. It allows us to cut up to 7-inch thick steel, and it offers 5-axis cutting. With it, we can cut challenging angles and curves in flat sheet steel with precision and speed.
As an added bonus, our oxy fuel table also has an integrated CNC drilling station that saves our customers time and money by enabling us to cut, drill, tap, and countersink parts all in a single step.
Our oxy fuel cutting equipment can handle metal sheet sizes up to 98 inches x 551 inches and can pierce thickness up to 5 inches (with a maximum edge cut of up to 7.87 inches thick).
Is Oxy Fuel Cutting Right For Your Job?
Contact us today to discuss your next project and find out if our oxy fuel cutting service or one of our other cutting techniques will be the right cutting option. In addition to cutting, we also provide a complete suite of manufacturing services including welding, forming, fabricating, laser scanning, laser engraving, powder coating, hand processes, and more.
So whether you need a single prototype or full production run, we are here to answer your questions and ensure your experience with us is one of quality, consistency, and exceeded expectations.