Four Powerful Advantages Of Plasma Cutting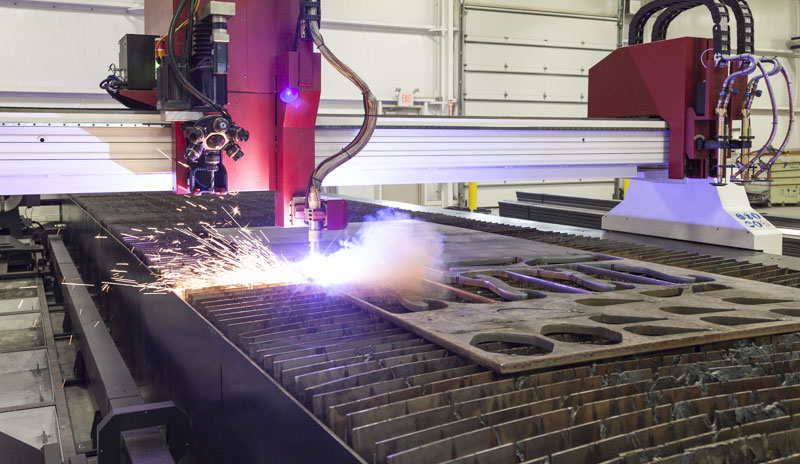 Among the cutting-edge cutting technologies that we offer at BenCo, our plasma cutting service provides a great deal of flexibility to our customers.
We offer both high-definition plasma and oxy fuel cutting heads, and our machine features an integrated CNC drilling station that enables us to execute additional processes quickly and with the greatest of ease and accuracy. Why might you consider plasma cutting for your next project? Read on to find out!
4 Points That Make a Powerful Argument For Plasma Cutting
1. Plasma cutting makes short work of thick metal.
Our plasma cutting machine powers through mild steel, stainless steel, and aluminum. And with our oxy fuel cutting head, even 7-inch-thick steel doesn't pose a challenge.
2. Curves and angles? No problem!
Our machine's pivoting, multi-angle cutting head allows for cutting complex geometries on distinctive parts. Using it, we can make precise bevel cuts and radiuses. The results are exceptional on complex beveled or radiused parts.
3. Multiple processes in a single step provide optimal efficiency.
Our plasma cutting service will help you save time because we can drill, tap, and countersink in the same step as cutting—thanks to our plasma table with a CNC drilling station equipped with a variety of tools to handle multiple processes.
4. It scales like nobody's business.
Whether you need a single prototype or a full production run with thousands of parts, our plasma cutting machine can handle the job accurately and quickly.
Is Plasma Cutting Right For Your Next Manufacturing Project?
We're just a phone call away, so contact us to discuss your next project with our experienced and knowledgeable team. With plasma cutting, flat laser cutting, 3D tube laser cutting, water jet cutting, and more, we have the perfect solution to your most challenging manufacturing needs.