How A Part's Design Can Make All the Difference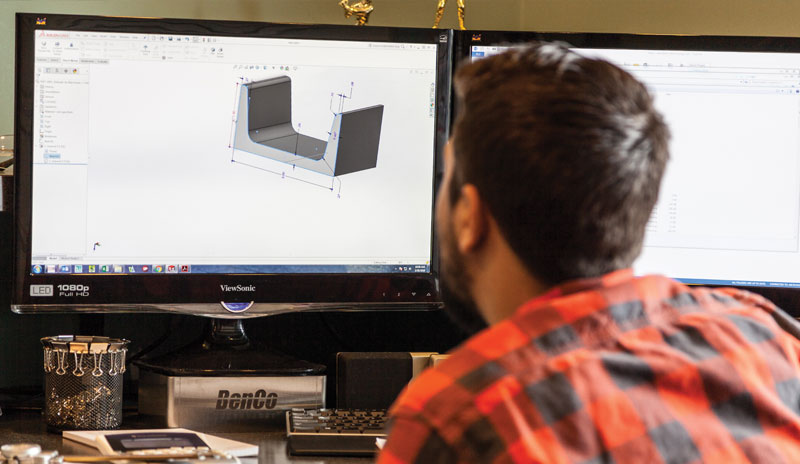 Expert cutting and fabrication cannot alone create best-in-class parts. To manufacture parts of the highest quality, it requires a flawless design. Without that, all other processes of the manufacturing process can go awry—and that can cost your company valuable time and money.
That's why at BenCo, we have a team of experienced designers ready to help ensure your parts and components start off on the right foot. Our designers have worked on a wide variety of projects for clients with diverse needs. Whether you need a part designed from the ground up or need an existing design evaluated, our team is here to assist you in making parts that are the best that they can be.
Read on for three advantages our design services can deliver on your next project.
Stronger Parts
With years of experience in improving the durability and precision of parts made from various metals and other materials, we have the in-house skills to create designs that ensure maximal strength and functionality. From identifying the ideal type of metal, to determining the placement of tabs and holes, to choosing the most effective fabrication process, we consider all factors.
We have a deep understanding of every manufacturing process, which enables us to design with purpose and laser focus on your goals. No matter what your business manufactures, your parts and products are in capable hands with our team.
Cost-Efficiency
Not only do our designers know how to make parts stronger, but they also know how to make them as cost-effectively as possible. They have extensive experience in designing parts and products for OEMs. They have helped countless customers save money by assessing objectives and customizing how to best approach a job.
For example, they know how to lay out jobs in a way that will yield a higher quantity from each piece of material and recommending new technologies (like PEMing or 3D Tube Cutting) to bring down costs. Our team also evaluates production workflow and determines how to group functions to create time and expense efficiencies.
One-Stop Solution
When you choose BenCo Technology, you get all your manufacturing needs satisfied in one place. We have a full complement of design, laser cutting, and metal fabrication equipment so that your parts and products can be executed flawlessly and according to plan.
From prototypes to short runs to full-blown production runs of thousands of parts or finished products, you'll never have to worry about any details slipping through the cracks.
With our ability to handle your jobs from start to finish, you won't waste time and money taking your parts from one vendor to another to complete individual processes. We even offer rush orders when you're in a pinch and need your parts to happen overnight. By having us as your one-stop solution, you gain peace of mind that your jobs will be accomplished accurately, on-time, and at a cost your business will appreciate.
Find Out More About Our Manufacturing Design Services
Contact us today to discuss your next job! We'll be happy to join you in exploring how our design services and other manufacturing capabilities can make your next project more profitable.