How Does Our Design Team Improve Projects? Find Out!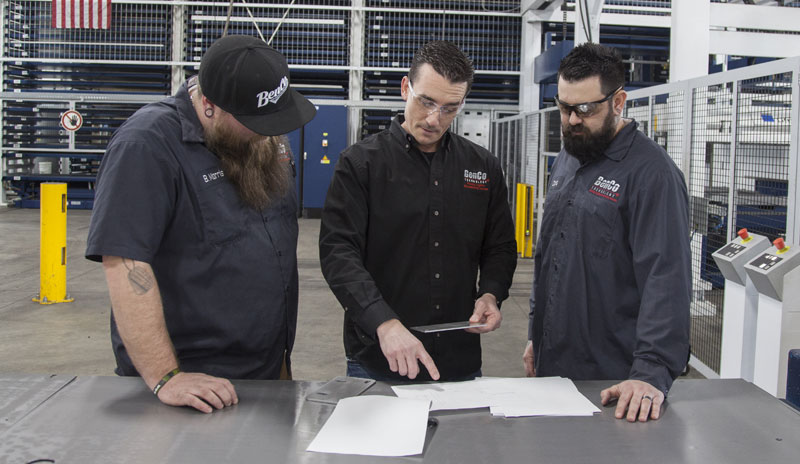 It's no secret that focusing on design before fabrication can help you save time and money in the long run. At BenCo, we're a laser cutting service and metal fabrication service that focuses on design first, so we can create better parts for you, and in turn, you can create better products for your customers.
We are an experienced manufacturing partner offering full-service solutions to increase your productivity and benefit your bottom line. Our team of highly skilled designers will map out your project from design to fabrication so you never have to "go back to the drawing board."
Read on to learn more about how the design team at BenCo can help you improve on your next project!
3D Visualization
Our process begins by creating 2D and 3D models of your part or product using the latest AutoCAD and SolidWorks software systems. You can count on our team to thoroughly review your designs before any stage of production begins. This allows us to visualize potential design problems before fabrication begins. It also allows us to identify any potential form or fit issues, and revise the design beforehand if necessary so you don't lose valuable time or money on your project.
Prototyping
You should never have to settle for parts that are anything less than flawless. Our design team will work with you to develop prototypes, optimize your design and iterate additional prototypes until your part is perfect. You get the peace of mind that your parts and products will be of superior quality and you can pass that peace of mind along to your customers.
Value Engineering
There are often many ways to approach the fabrication of a part or component, and a skilled designer knows all of them inside and out. Our designers have experience with multiple fabrication processes and can recommend changes that will not only make your parts stronger and better, but can also minimize future failures, reduce costs and decrease turnaround time. That means the design process can add value from the start, and help you reduce costs over time.
Part & Product Design
From drafting and engineering to prototyping, our highly skilled designers ensure that you get high quality parts at an excellent value. And when you need to design a part, a component or an entire product from the ground up, our designers are able to step in and help from conception through to final production. They'll help by contributing ideas, sharing fabrication knowledge, fine-tuning your existing design, evaluating your designs for potential flaws so as not to compromise the finished product, and more. We've even turned napkin sketches into mass-produced metal parts!
Are You Ready to Improve Your Parts & Products?
At BenCo, we aren't your run-of-the-mill laser cutting service or metal fabrication shop. We have the expertise, finely-tuned processes, and state-of-the-art equipment to assist you with your next manufacturing project from beginning to end – especially when it comes to design! So, contact us today to discuss your next project. We look forward to hearing from you!