Laser Cutting & Forming A Touchscreen Kiosk for VS Networks
Recently our PA laser cutting shop completed an interesting cutting and forming project that resulted in a very exciting finished product: a touchscreen kiosk for the marketing firm VS Networks. As a main component of the Showroom Digital Media System, VS Networks designs custom touchscreen applications for clients such as John Deere and STIHL in order to help prospective buyers easily compare products and determine the best purchase for their needs.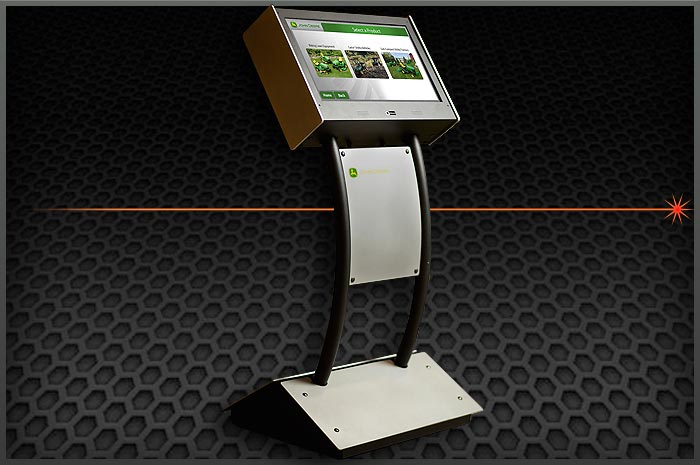 This kiosk is assembled from a couple of important component parts. First, there is a metal back box that holds the touchscreen monitor itself. This back box required thoughtful internal configuration to allow the electronic components and connections to easily and securely nest into place. The tolerances of the internal assembly had to be precise for the touchscreen to consistently receive power and data.
As a consumer-facing product, appearance was a critical factor in this project. Touches like silver powder coating, a precisely rolled metal valance between the kiosk legs and a perfectly formed faceplate help this kiosk make a sleek and sophisticated impression on potential clients and customers alike.
In order to make sure that the silver powder coating would bake to a perfect finish, we used nitrogen during the cutting process. The use of nitrogen ensured that any cut edges would be free of the oxidation that can sometimes appear during laser cutting. Our goal was a pure, clean finish and any oxidation would have prevented a strong bond from forming between the powder coating and the metal.
If you're interested in learning more about our PA laser cutting shop, please contact us today. We look forward to learning about your needs and discussing your next project!