Meet Chris, Laser Cutting Shop Supervisor and Unapologetic Giants Fan at BenCo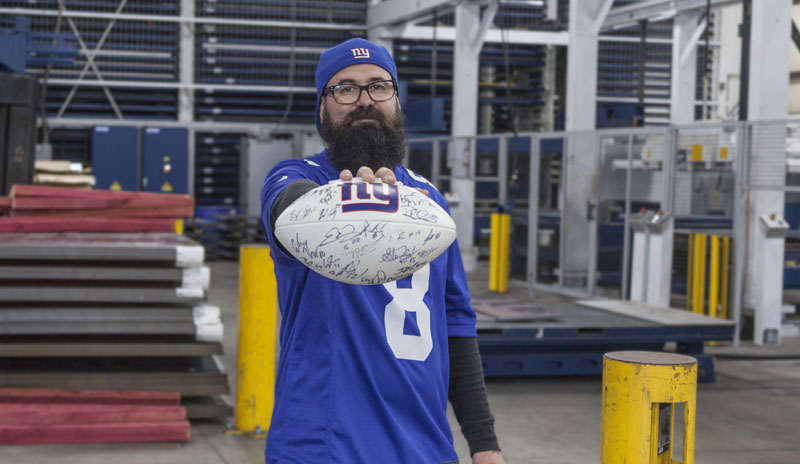 Chris Peterson is the Shop Supervisor at our laser cutting shop in Honey Brook, PA. He sees every part that makes its way through the shop and out to our customers. And, he's the reason our shop runs smoothly and parts get out the door on time. We spoke with Chris to learn more about his work, his dedication to his shop floor team, and, of course, his undying love for the New York Giants. Here's what he had to say.
—-
Q: You started at BenCo as a temp – how did you work your way up from temp to Shop Supervisor?
A: I spent a lot of time learning everything I could about laser cutting. I came in as a temp working night shift and started learning the basics. Later on, an opening for a day-shift Laser Cutting Operator opened up and I got the job. I ran the laser cutter and learned as much as I could along the way. Eventually, I was promoted to lead operator where I helped with cut quality to keep the machines running. And now I'm the Shop Supervisor.
Q: What are your responsibilities as Shop Supervisor?
A: My job is to keep our guys working and the machines running. Each day I work with my best friend Corey Dickinson, our Lead Programmer. We've been friends since Kindergarten and now we get to put the laser schedule together each day. We figure out which parts to cut on which machines to maximize our output.
I'm also responsible for preventive maintenance on each of the lasers. If a machine needs to be fixed, I get it fixed. I also make sure orders are run properly whenever a customer has specific instructions, like if they want the parts stacked or shipped a certain way.
Overall, I work for my guys on the floor. My job is to make sure they have everything they need to do their job each day so they can do quality work for our customers.
Q: Do you work directly with customers?
A: Not directly. I work with the Project Managers who work directly with our customers. I do, however, make sure that whatever special instructions a customer requests are followed through on and completed. In those cases, I'm the guy connecting the customer's requests to the employees in the shop doing the cutting.
Q: What do you like most about your role and working at BenCo?
A: Definitely the people. For one, I get to work with my friend every day, Corey. We work together to get every order through the shop and out the door. I also love being on the shop floor with the team. It's a family atmosphere. The people here make this a great place to work.
Q: Last and most important question…how big of a New York Giants fan are you?
A: I've been a die-hard fan since 1986. I love the Giants. I'm a season ticket holder and when I'm not at the games, I get together to watch them with friends and family in my Giants-themed mancave. I haven't missed a game in over 20 years.
I also have a Giants football with over 50 player signatures on it. I even started a podcast years ago where a friend and I just talked about the Giants each week.
My life revolves around my family and they love the Giants, too. My three daughters wake up every Sunday and put on their jerseys. I take them to training camp every year and we meet the players. They embrace it and it's something we do together as a family.
—-
To learn more about how Chris and our entire team work hard to get quality parts cut and delivered on time, contact us today. We look forward to working with you.