Meet Jermahl: Press Brake Operator and Running Back at BenCo
At BenCo, we're proud of our top-notch team of manufacturing professionals. And if you're curious about the employees who keep your projects on track, on time and on spec, read on to meet one of our GIANT key players!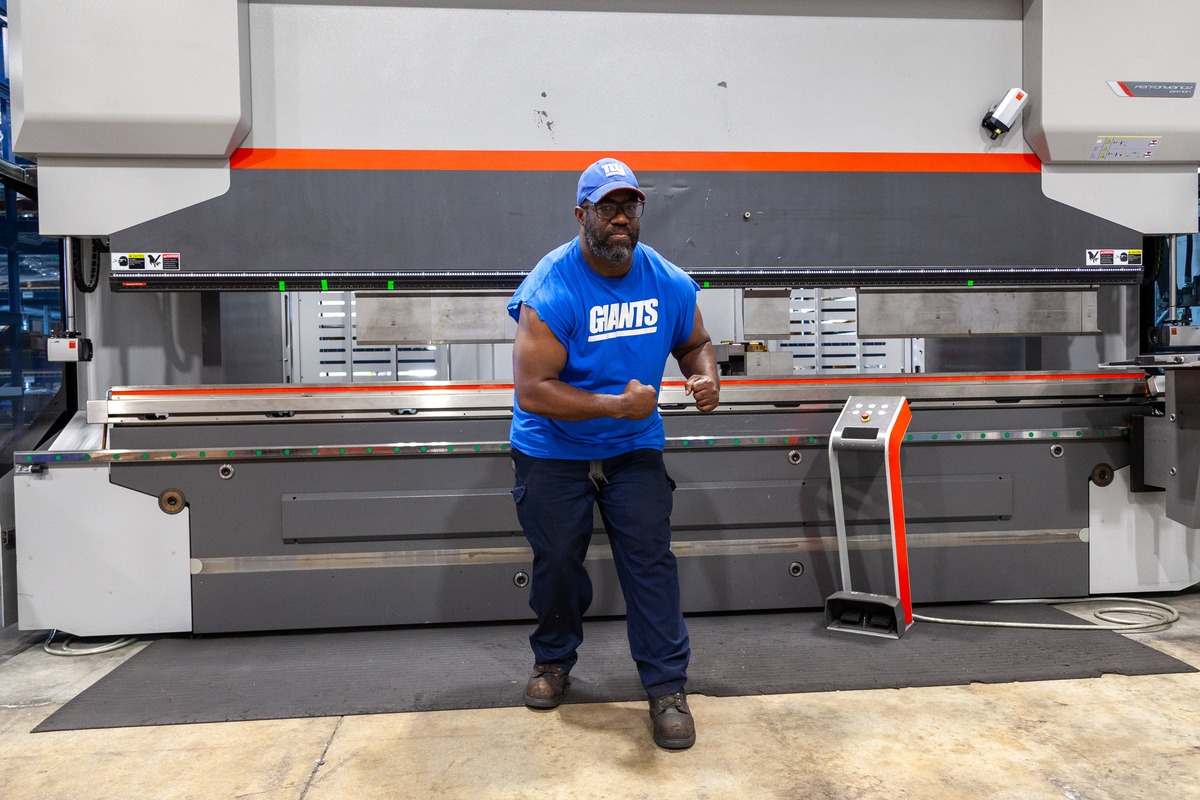 Jermahl has been with us for over 10 years, and during that time he has helped us gain yardage, convert first downs, and get the ball in the end zone time and time again! Get to know more about him below, and contact us today to learn how Jermahl and the rest of our team can support your business.
How did you get your start at BenCo?
Well, my rookie year I started out by learning to run a flat sheet laser. I had gone to Stevens Tech for Welding and Fabrication, so I always knew I wanted to do something in manufacturing. I like working with my hands, and so running a laser and cutting parts seemed like a great job.
What is your role in the shop today?
I really enjoyed learning how to program the laser, and I love learning new things, so becoming a Press Brake Operator was the next logical step. It's a bit more complicated than running a laser, and I think it's fun to get a new project and figure out the best way to get it through the press. It can be complicated, and so it's kind of a puzzle sometimes.
What do you like best about being a Press Brake Operator?
I enjoy the challenge of figuring out the best way to make our projects come out perfect. Some of the parts we make are really complicated, and require a bunch of different bends, and they all have to be perfect. So, coming up with a plan, then executing it, and then seeing the finished project is rewarding to me.
When I first moved to the Press Brake department a few years back, I used our old Accurpress which was more of a manual process. Then as we added new machines, and upgraded our technology, I learned how to run our most complicated CNC presses. These have a variety of programming considerations, more complex tooling, and multi-axis back gauges that move with the part and allow us to form more complicated parts. I love learning all about the latest technology and then getting good at using it to make parts for our customers.
What are your favorite projects to work on?
The more complicated the better! I love working on really complicated jobs, especially parts that have really tight tolerances. I like the challenge of figuring out the best way to form the part, and then executing with the utmost precision. I love making a pallet of perfect parts, it feels good to have accomplished something at the end of the day.
What's your favorite part of working at BenCo?
Even beyond running a press and making cool parts, I love all the people I work with. It just feels good to be here with the rest of the team. I have a strong church family in my personal life, and my friends and co-workers here feel like an extension of that. They're great people. 
Other than that, I'm happiest when a job is finished and perfect! Sometimes I'll even stay late or come in early just to get a job done. It feels great to check a job off my list and know that it's done correctly.
What do you enjoy doing in your spare time?
I have always loved football! I played Fullback and Running Back when I was in school, and I still love to play with my kids and friends. Fortunately, I've turned my son into a New York Giants fan. I'm still working on my wife. But we all watch games together and enjoy some downtime on the weekends. 
—
If you're interested in making a handoff to BenCo, and would like to huddle on your next project, contact us today. Jermahl and the rest of our team are ready to help get your parts across the goal line!