Metal Cutting Services You Can Count On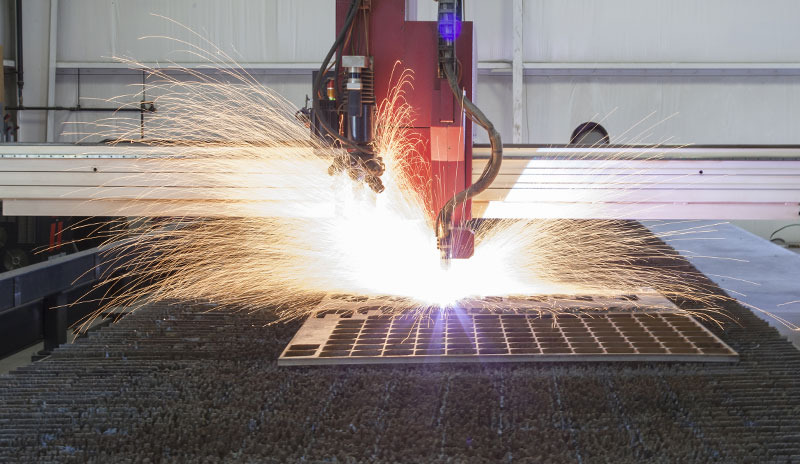 When it comes to turning raw metal into customized components and parts, you need a metal cutting service you can count on. At BenCo, we offer fast, precise and cost-effective cutting services for all types of metal, from flat sheet to tube, square and open profile stock.
So whether you are looking for individual parts, prototyping, small quantities or thousands of parts for a full production run, you can count on us to deliver fast, accurate and consistent parts every time.
Read on to learn about the wide variety of metal cutting services we offer. And contact us today to learn more!
Flat Sheet Laser Cutting
Flat sheet laser cutting is cost-effective and efficient because it's fast, produces a quality cut, and allows us to cut and etch in the same step. From single prototypes to full production runs, our fleet of Trumpf flat sheet lasers can create parts quickly and precisely. This process is best for cutting steel, stainless, aluminum, copper and brass with the utmost speed and precision.
Tube Laser Cutting
Tube laser cutting is the most efficient process for precisely cutting tube, square, angle, channel and other open profile stock with both simple and complex geometries. Even better, our BLM tube lasers can cut, countersink, bevel and chamfer in a single step which saves time and eliminates the need for subsequent processing. This cutting process is best for cutting steel, stainless and aluminum, and can be used to cut complex geometries on complex parts – for example joining multiple tubes or profiles into complex shapes.
Water Jet Cutting
Water jet cutting is best for creating parts from any type of metal but also can handle granite, glass, stone, foam and rubber. Our top-of-the-line Techni water jet and our new Flow Mach 500 water jet can cut materials from the thinnest glass to 6" thick stainless steel and even stone. Truly, water jet cutting is a flexible and precise way to cut the parts you need.
Combined with our Softec planning and control software our shop is capable of cutting intricate patterns, and we can also stack cut materials with a thickness of up to 8". The high acceleration and cutting speeds of this process allow for high production output and with short runs or prototypes, we can go from design to finished parts in a matter of minutes.
Plasma Cutting & Oxy-Fuel Cutting
Plasma and Oxy-Fuel cutting is best for processing thick metal, including mild steel, stainless and aluminum. Our Baykal plasma cutting machine is also one of our most versatile pieces of equipment thanks to an integrated CNC drilling station. This all adds up to a more efficient manufacturing process and quick turnaround times for your more complex parts. Thanks to the integrated drilling station, we can cut, drill, tap, chamfer and countersink all in the same step, saving time and increasing accuracy on subsequent processing.
Interested in Learning More About Our Precision Metal Cutting Service?
In addition to cutting your parts, you can count on our experienced team to help you make the most of your production run by maximizing the use of raw materials, providing design advice to help strengthen the final product and value engineering parts to achieve the lowest cost without sacrificing quality.
With our full suite of metal fabrication equipment, we are able to cut, bend, punch, powder coat and finish all your parts to your exact specifications, then tag them, package them and ship them on time and under budget. Contact us today to learn more, and let's discuss your next project today!