What Can Our Tube Laser Cutting Service Cut?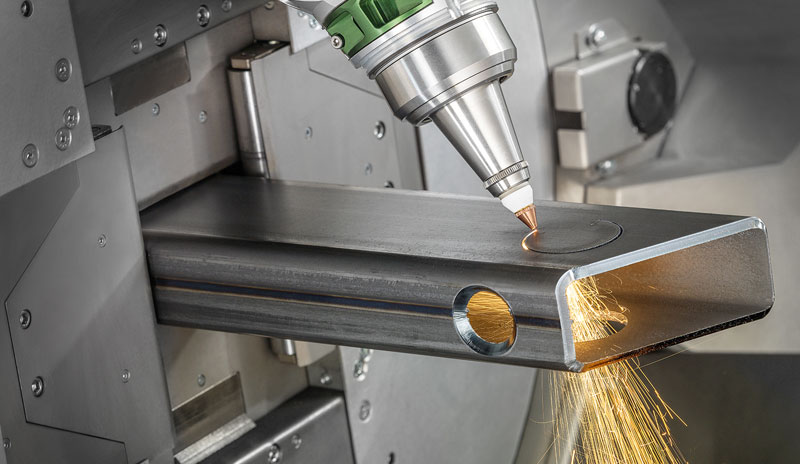 Whether you're developing a single prototype or you need high volume production, our 3D tube laser cutting service can help create the parts you need. From cutting simple angles to creating complex radiuses and other 3D geometry, a smart designer can use tube laser cutting to create durable, cost-effective parts. But, what exactly can you cut, and what are the benefits of cutting metal with a tube laser? Read on to find out!
Cutting Round Tube & Pipe
Even beyond simple perpendicular cuts, a tube laser gives you the precision to cope a wide array of complex shapes into round tube stock. Joining two pieces of pipe together? A 3D tube laser can radius and angle the cuts perfectly so that the two pieces join flush. In addition, you can cut all sorts of complex tabs and alignment notches with ease. And with tilt cutting capabilities, you can achieve complex radiuses and bevels that you just can't cut with a traditional saw.
Cutting Square & Rectangular Tube Stock
In addition to the complex radiuses and tilt cutting described above, there are a number of time-saving ways to cut square tube and rectangular tube stock on our 3D tube laser. Notch your workpiece and bend it into shape by hand, easily create weld profiles for picture-frame style fabrications, and make it easy to weld and finish perfect corners wherever they're needed with precision chamfering. With a tube laser cutting system, you'll be able to cut, mark and tab even the most complex parts.
Cutting Angle, Channel & Open Profile Stock
Angle iron, channel stock and other open profiles can be difficult if not impossible to cut using traditional methods. With the exception of simple, perpendicular "saw" cuts, a tube laser cutting system is the only way to cut holes, angles and miters on complex extrusions. No matter what type of "stick" stock you need to cut, perfect radiuses and complex angles can be designed that will make your parts and products better.
Ready to Learn More?
If you're looking for a full-service manufacturing partner to produce the parts you need from round tube stock, square, rectangular, and open profile stock, contact us today. Best of all, our manufacturing campus is home to a full suite of metal fabrication equipment and a team of expert designers and technicians who can help your business maximize success no matter what you produce. We look forward to hearing from you and discussing your next tube laser cutting project!