Water Jet Cutting a Unique Memento for a Historic Ship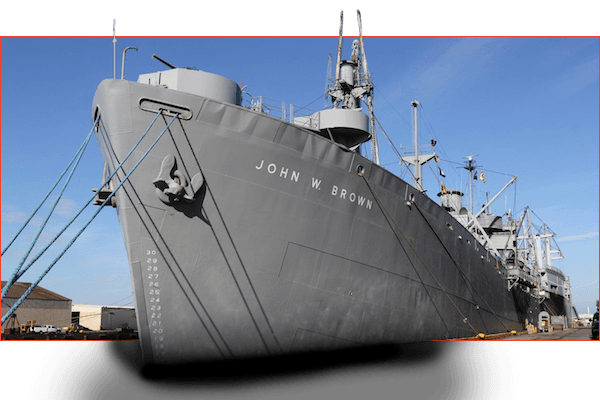 Our PA water jet cutting shop recently completed an interesting project for a historic ship. Known today as the Project Liberty Ship, the SS John Brown was launched on Labor Day 1942 as a merchant ship under the U.S. War Shipping Administration. It was one of 2,710 Liberty Ships built for the war effort.
According to the SS John Brown website, the ship can carry almost 9,000 tons of cargo – about the same as 300 railroad boxcars. It was fitted out to carry about 500 troops as well.
The Brown saw duty during World War II, including participating in the invasion of Southern France in August 1944. Despite surviving many attacks by enemy aircraft and submarines, it was never seriously damaged.
The ship was crewed by 45 civilian merchant seamen, as well as 41 US Navy personnel to man her 5-inch, 3-inch and 20mm guns.
In 1988, the Brown was rededicated as a museum ship and memorial. She honors the memory of the shipyard workers, merchant seamen and Naval Armed Guard who built, sailed and defended the Liberty fleet. The ship is also listed in the National Register of Historic Places. If you visit Baltimore, you can tour the ship and even take a cruise. The Brown is one of only two Liberty Ships remaining.
Several years ago, the hull of the ship was ultra-sound tested and it was discovered that the hull plate under the engine room was in need of replacement. The original hull was rolled at Lukens Steel in Coatesville, PA in 1942 on a special 120" rolling mill that was built to specifically to roll hull plate for the war effort. The replacement was accomplished during two dry-dockings in Norfolk, VA.
It is from sections of the hull that were removed during this dry-docking that our water jet cutting shop created mementos of the Brown. These historic souvenir pieces are currently for sale in the ship's gift shop.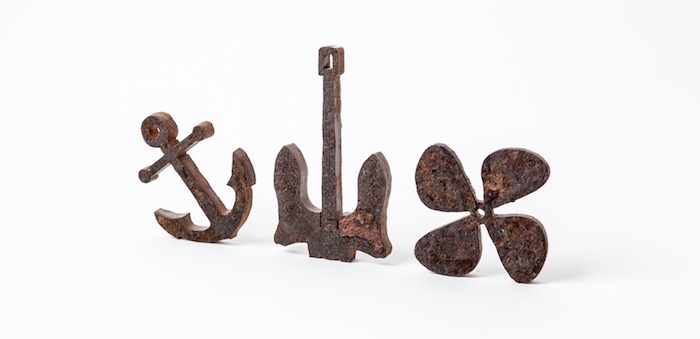 These nautical-themed parts are cut from the 5/8" steel hull sections described above. And our water jet cutting technology seems to be a fitting way to create these unique mementos and keep the memory of the Brown afloat!
If you're interested in learning more about our water jet cutting services, please contact us today! We'd be happy to discuss your needs and determine the best approach to your project.
If you're interested in learning more about the SS John Brown, please visit their website! The Brown sails out of Baltimore and offers Living History Cruises in addition to various special events throughout the year. We encourage you to stop by to visit the Brown and the good folks at Project Liberty!